News
North Star Windows & Doors Introduces All-New ComfortStar™ Patio Door
Industry-leading thermal performance through North Star Windows & Doors.
St, Thomas, Ontario, July 1, 2022 – North Star Windows & Doors, part of Cornerstone Building Brands—the largest manufacturer of exterior building products in North America, is proud to expand their product offering with the introduction of the ComfortStar™ Sliding Patio Door line. Boasting superior thermal performance and high condensation resistance through its modular design, ComfortStar™ improves household comfort levels with unrivalled energy performance and innovative construction.
"The ComfortStar™ patio door is the by-product of nearly 40 years of innovation and our commitment to consistently exceed industry standards – providing homeowners with products of exceptional value and builders the versatility for any installation application," said Sheldon Dyck, General Manager of North Star Windows & Doors. "ComfortStar™ was thoughtfully crafted to address long-term comfortability and provide a high degree of protection against weathering elements and water infiltration. More notably, ComfortStar™ addresses the need for sustainable building products and bears the ENERGY STAR® and ENERGY STAR® Most Efficient distinction."
ComfortStar™ is tested and certified to CSA standards with AAMA Gold certified extrusions, impressive U-values exceeding standards predicted through 2030, and enhanced water and air performance through modular design advancements and its self-draining sill. Along with its innovative fusion-welded multi-chambered sash, multi-stage sealed interlock and added seals between the frame, ComfortStar™ delivers superior thermal and functional performance for added protection year-round.
Backed by a lifetime warranty and available in 9 UV-resistant Fusion Colour WrapTM exterior laminated finishes, ComfortStar™ leverages its modern, straight-line design to create a visually impressive living space for any home aesthetic.
North Star Windows & Doors, a Canadian leader in manufacturing for vinyl windows and patio doors, is currently accepting product orders through any of their Authorized Dealers across Canada and the U.S. Learn more about ComfortStar™ at northstarwindows.com/doors/comfortstar.
About North Star Windows & Doors
Since 1985 North Star has been an industry leader in the manufacture of attractive and energy-efficient vinyl windows and patio doors. Whether you're building a new home or upgrading to today's standards, North Star has an extensive range of quality, energy-efficient and full-featured windows that are not only beautiful but offer exceptional value.
About Cornerstone Building Brands
Cornerstone Building Brands is the largest manufacturer of exterior building products for residential and low-rise non-residential buildings in North America. Headquartered in Cary, N.C., we serve residential and commercial customers across the new construction and repair and remodel markets. Our market-leading portfolio of products spans vinyl windows, vinyl siding, stone veneer, metal roofing, metal wall systems, and metal accessories. Cornerstone Building Brands' broad, multichannel distribution platform and expansive national footprint includes more than 20,000 employees at manufacturing, distribution and office locations throughout North America. Corporate stewardship and environmental, social and governance (ESG) responsibility are deeply embedded in our culture, and we are committed to contributing positively to the communities where we live, work and play. For more information, visit us
at www.cornerstonebuildingbrands.com.
Contacts:
North Star Windows & Doors: Marketing Department, North Star Windows & Doors
1-800-265-5701
Marketing.NST@cornerstone-bb.com
Media Inquiries: Mary Barnes, Director, Corporate Communications
1-866-419-0042
response@cornerstone-bb.com
–
North Star Windows recognized under Well Made Here
St. Thomas, Ontario, April 9, 2021
North Star Vinyl Windows & Doors have been added to the directory of local, Canadian-made manufacturers through the Well Made Here program. The program assists homeowners, contractors, and retailers in their search for quality, locally crafted building materials – bridging the gap and mending the way for North American products.

North Star produces a wide array of high-quality, energy efficient products and has long been known for their superior product offering and best-in-class technologies in the fenestration sector.
Well Made Here is a non-profit organization under federal jurisdiction, with a mission to promote the purchase of quality building materials and other items manufactured in Canada that are intended for the residential market. Unequivocally supporting our regions and manufacturing jobs across Canada, while giving homeowners the ability to make informed buying decisions.
Click here to learn more about the Well Made Here program.
–
North Star Windows Expands Production to Manufacture PPE for Frontline
St. Thomas, Ontario, June 4, 2020
A local window and door manufacturer, North Star Windows & Doors, has recently shifted production processes to include production of personal protection equipment (PPE) that has been in increased demand since the onset of the COVID-19 crisis.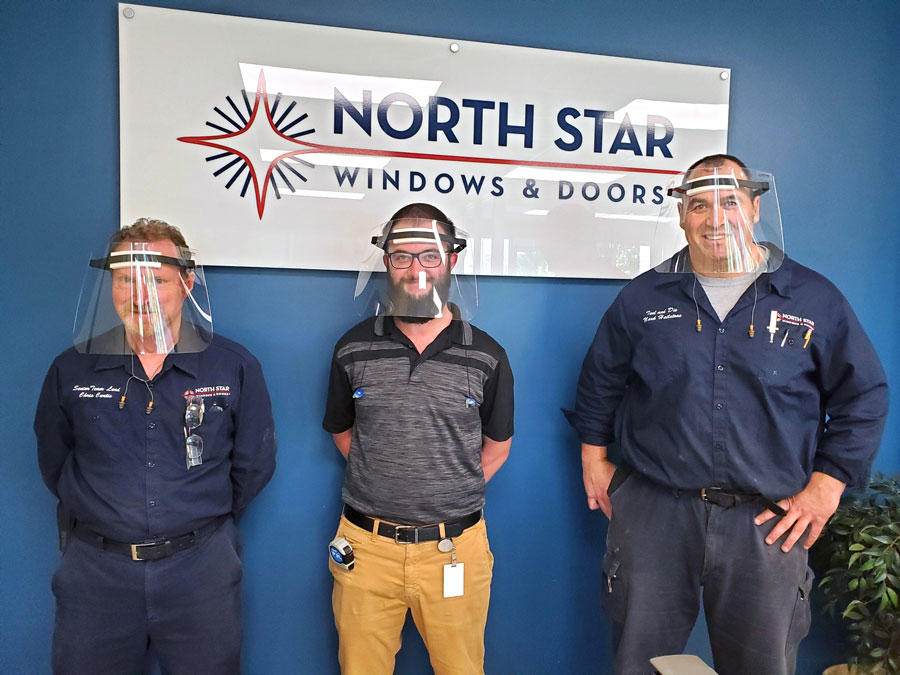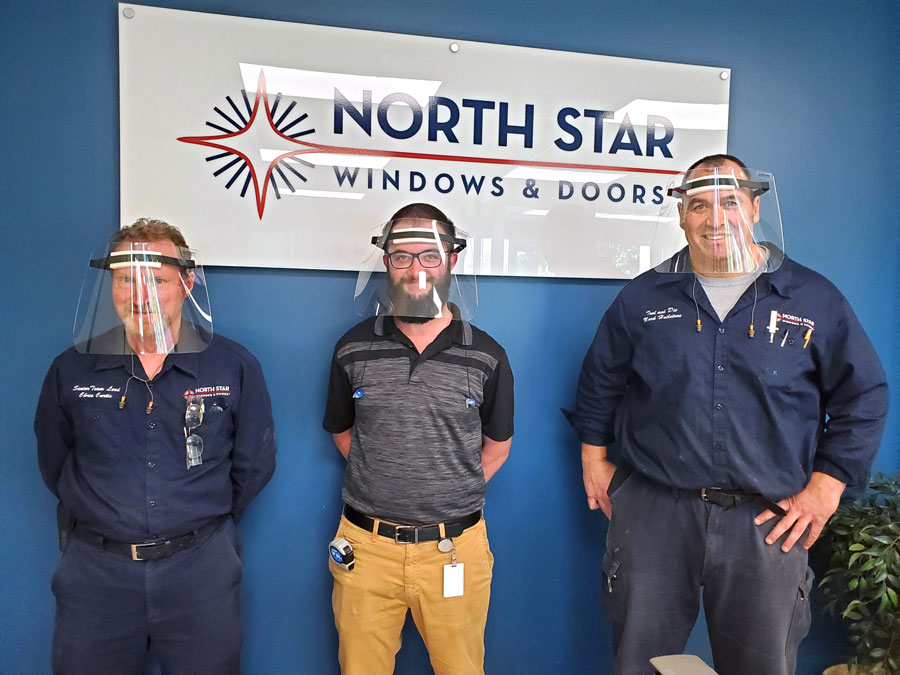 With locations in St. Thomas and Woodbridge, North Star has partnered with various vendors to design and source the materials required to produce protective face shields for frontline workers in the community, such as medical practitioners, personal support workers, and even factory employees who have close human contact.
North Star, an essential service themselves, is a leading manufacturer of energy-efficient window and door products with distribution in Canada and the United States. With the reported difficulties of securing PPE for frontline workers and employers who are bringing their workforces back with the phased lifting of distancing restrictions, North Star has expanded current production capabilities at their St. Thomas plant to enable up to 3,000 high-quality face shields to be manufactured per week.
"North Star has been supporting the COVID-19 situation by repurposing some of our assembly lines into producing facial protection equipment for the community," says Glenn Schmitchen, Engineering Manager. "At the start of the outbreak, the Engineering and Maintenance team began to brainstorm how we could support frontline efforts by leveraging new capacities in cutting, existing raw materials, and like-minded suppliers to quickly produce a good that was in need. The result is a PPE product that is effective, affordable, and easily accessible."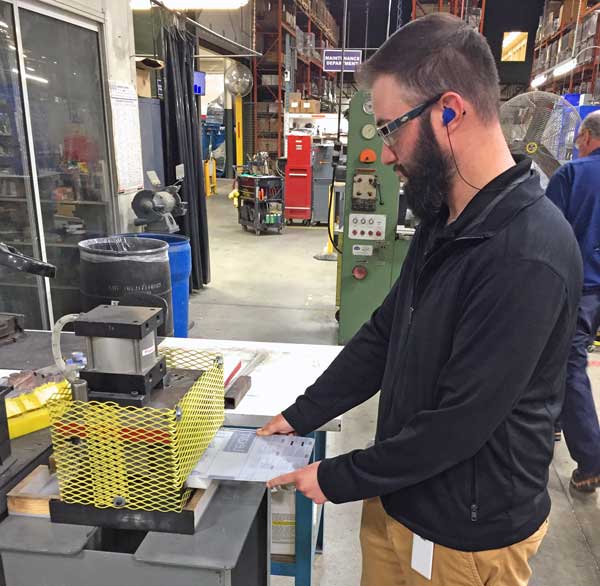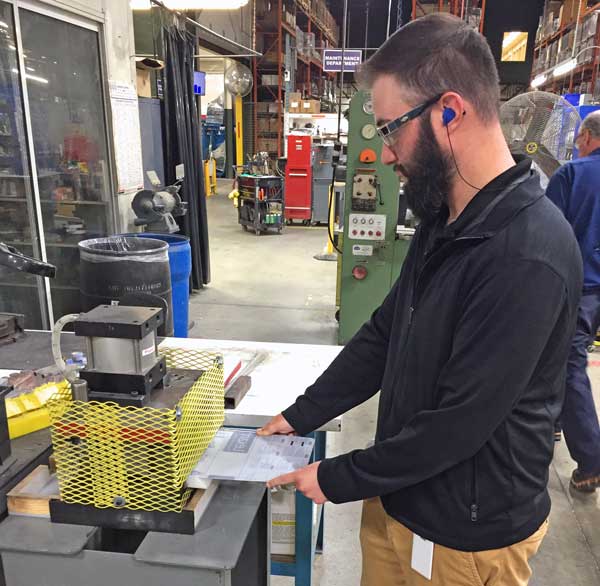 After a series of prototypes, the team created a high quality, North Star-built face mask that features Lexan, the clear plastic for the shield, manufactured in Ontario and supplied by Polymershapes, a headband made from SuperSpacer, a silicone product for energy-efficient windows, supplied by Quanex IG Systems in Cambridge, Ohio, and a forehead pad from modified patio door roller shim, purchased from Adev Profom Inc. in Laval, Quebec. Materials were secured at a reduced cost in order to be able to offer the final product at a lower cost to increase accessibility for organizations.
The face shields were made to Federal Government Guidelines for both material and size. The design was finalized based on feedback from a local hospital to ensure usability and comfort.
"Safety, innovation, high quality products, and social responsibility are all values that North Star Windows & Doors lives by every day of the year," says Sheldon Dyck, General Manager of North Star. "The current climate is no exception to doing what is right for our community. We are proud of our team and our partners for coming together to produce a product that will keep our hardworking frontline workers and their families safe."
For additional details and availability, please contact Sheldon Dyck at Sheldon.Dyck@cornerstone-bb.com.