The ENERGY STAR program has become an international standard to help consumers save energy and money through the purchase of energy efficient products.
The international ENERGY STAR® symbol is a simple way for consumers to identify products that are among the most energy efficient on the market. Only manufacturers and retailers whose products meet the ENERGY STAR® criteria can label their products with this symbol. Choosing an ENERGY STAR® labeled product over a conventional model could save you hundreds of dollars in energy costs.
North Star Windows & Doors includes Energy Star compliant glass in all of our product lines. To view the North American Fenestration Standard (NAFS) and National Fenestration Rating Council (NFRC) Thermal & Solar Values ratings for all of our window and patio door products, please visit our Canada Greener Homes Grant & HER+ Rebate page.
ENERGY STAR Zones – Canada
The three (3) distinct zones that previously existed in Canada have now been combined into one zone. For more information on ENERGY STAR performance levels, visit the Canadian government's Office of Energy Efficiency's website.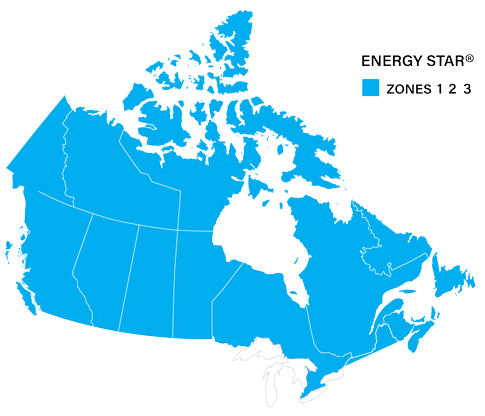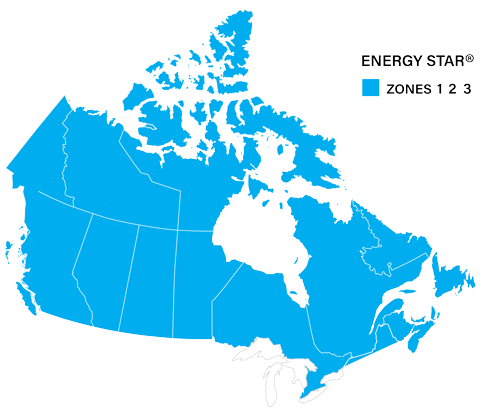 ENERGY STAR Zones – USA
The United States has been split into four (4) zones – Northern, North/Central, South/Central and Southern – with the best ENERGY STAR-approved options available by region. For greater energy savings, consider installing windows and doors suited for colder regions than your own. For more information on ENERGY STAR performance levels, visit U.S. government ENERGY STAR website.